Tim — The Story of Timothy H. O'Sullivan as a Young Apprentice at Mathew Brady's Studio
By Daniel A. Sheridan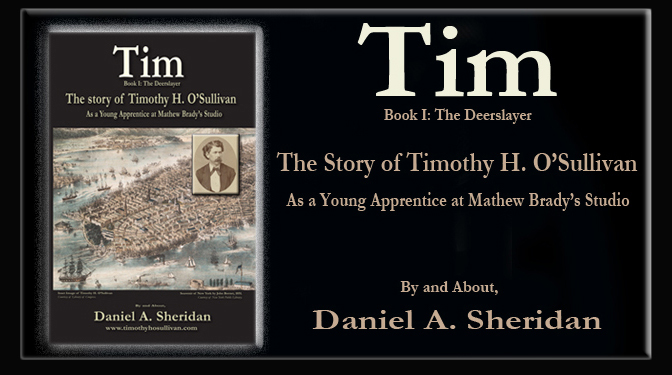 The Story begins on Sept. 11, 1850...
Based on the life of Timothy O'Sullivan, Tim is a ten-year-old boy from sleepy Staten Island who is told he must apprentice at Mathew Brady's daguerreotype studio in 1850.
Tim takes the ferry over to York with his father and rides the omnibus up Broadway to Fulton Street. Across from Brady's Gallery is Barnum's American Museum filled with all its relics and wondrous curiosities. As Tim ventures inside Brady's darkroom, he takes us back into New York's forgotten past and the history of photography.
The story begins on September 11th, 1850, with Jenny Lind's premiere concert at Castle Garden near Battery Park — a night that would be remembered for years to come, as the night when the Sweet Warbler first sang in New York.
All the city is infatuated with Jenny Lind. Great crowds surround her wherever she goes. She is the most sought-after celebrity by all the Broadway photographers.
Except that her manager, none other than P.T. Barnum himself, will not grant Brady access to the Swedish Nightingale.
But Brady shall not be thwarted, not with his observant young assistant, Tim...
---
Self-Publishing Review, ★★★★
Tim — The Story of Timothy H. O'Sullivan as a Young Apprentice at Mathew Brady's Studio
A stunning story of youthful determination and a nascent technology that would change the world.
Sheridan's descriptive passages capture the same immersive beauty and vivacity of a photograph, and he regularly brings forgotten details of the old smoky metropolis to life. 
Tim rings with authenticity that readers will relish, inspired as it was by the real Tim O'Sullivan's early experiences. Making readers lose themselves in a fictional history is a masterful skill, which Sheridan demonstrates in spades throughout this brilliant historical portrait.❏
---
Book Review on Amazon
by Grady Harp
Author Daniel A. Sheridan studied photojournalism and the history of photography at New York University and served as a darkroom technician at The Photography Workshop, as editor and photographer at Low-RANGE magazine, and as a drummer in the band The Immigrants.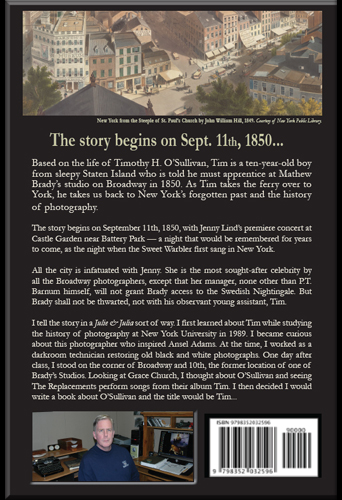 TIM is his debut novel – and who better to write this book than Daniel?! For those unfamiliar, Timothy H. O'Sullivan (1840 – 1882) was a photographer widely known for his photographs of the US Civil War and the American West.
Bringing to our attention the special gifts of the often-overlooked Timothy H. O'Sullivan, the apprentice to the famous photographer Matthew Brady, this immensely entertaining novel recreates the mid-nineteenth century and an important overview of the history of photography.
The interaction between Tim and Brady is beautifully rendered, offering insights into the development from daguerreotype to photograph – or in Brady's advice to Tim, 'The war over photography... The French process versus the English process. We must choose our allies carefully and know our enemy. You see, we've been working with the daguerreotype process for these last ten years…'
By inserting his own progress in photography alongside Tim's progress, Daniel makes this book ring true and even more accessible in honoring the art and history of photography. This is a fascinating and beautifully written book – one that deserves a very wide audience. Highly recommended. ❏
---
Amazon Reader Review
By A Cannady
As someone who enjoys photography and its history, this book was very captivating for me. The art and history of photography is explained in this book by the author in a beautiful way.
The interactions between Brady and Tim will leave you wondering at times what will take place. To enjoy this book, you don't have to be into photography or history. Its well-written and in my opinion, a must-read book for anyone.❏
---
OnlineBookClub.org review of "Tim" ★★★★★
by Patty Allread
Set in 1850, Tim by Daniel A. Sheridan is the story of how Timothy O'Sullivan, a ten-year-old immigrant Irish boy living on Staten Island, began working for Mathew Brady in his daguerreotype studio in New York City. The daguerreotype was all the rage and was called "The New Art." Brady takes Tim under his wing and gives him odd jobs while teaching him how a daguerreotype portrait is created. Tim gets to know New York City and meets some colorful and famous people there, including P. T. Barnum, famed writers, poets, and others who come to the studio to have their portraits made.

What I loved the most was reading about Tim's day-to-day experiences in nineteenth-century New York City. Sheridan paints a lively picture of the era and the city and explains many of the things that were going on at that time. What might seem quaint now was written with a gritty reality as seen through the eyes of young Tim. Sheridan did a great deal of research not only about the now-famous Brady and O'Sullivan but also about the New York lifestyle in 1850. I have always subscribed to the saying, "I Love New York," and thoroughly appreciated this part of the book.

Reading Tim was a sublime experience. The undercurrent of an emerging art form, the growing inspiration of Timothy O'Sullivan, Mathew Brady, and Daniel Sheridan, and the feeling that I witnessed the emergence of this new era of art satisfied and inspired me. For these reasons, this book deserves 5 out of 5 stars. I should also mention that the book was excellently edited, with no errors that I could find. A small notation on the book cover indicates this is Sheridan's first book about O'Sullivan. If he writes a second one, I'll be eager to read it!

Readers interested in the daguerreotype method, photography, or the work of Mathew Brady and Timothy O'Sullivan will enjoy this book because it is not a dry history; it is history creatively brought to life by a skilled writer who researched his material well. Readers who love New York City and the period just before the Civil War will also like this book. Younger readers will find it inspirational to see how a young boy from a low-income family found a deep interest early in life that later became his passion. ❏
---
From The Author ~ The Photographs of Timothy H. O'Sullivan

I first learned about Timothy H. O'Sullivan while studying the history of photography at New York University in the spring of 1989. Professor Silver clicked back and forth in a slide show comparing O'Sullivan's photograph, Ancient Ruins in the Cañon de Chelle, N.M., taken in 1873 with Ansel Adams' view taken in 1942.
I became curious about this photographer who inspired Ansel Adams with his large-format, view camera. I then went to the Museum of Modern Art to view the photographs of O'Sullivan. At the time, I worked as a darkroom technician restoring old black and white photographs, while studying photojournalism at college.
New York University is an important place in the history of photography. This is where Brady's mentor, Samuel F.S.B. Morse, experimented with the new discovery he recently brought back from Paris — the Daguerreotype. His colleague, Dr. John William Draper, a chemistry professor, took one of the first known portraits with a camera on the rooftop of the university at Washington Square.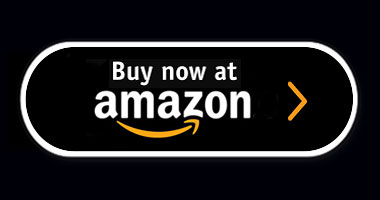 Little is known about O'Sullivan. As James D. Horan states in his biography, Timothy O'Sullivan: America's Forgotten Photographer, "There were few clues, only his name, a four-line obituary..." Though we don't know much about Tim. What remains are his photographs.
One day after class, I stood on the corner of Broadway and Tenth, the former location of one of Brady's Studios. Looking at Grace Church, I thought about O'Sullivan and his photographs. Over to the right, down the street, is The Ritz where I saw The Replacements in 1986 perform songs from their album Tim. I then decided to write a book about O'Sullivan as a young apprentice at Mathew Brady's studio, combined with my experience as a darkroom technician, and the title would be Tim.❏
Daniel A. Sheridan